We are happy to welcome you and your family to the Salem Manor website and hope that you are able to find everything you are looking for, when it comes to finding the perfect home for your Loved one.
We are a community faith based nursing home, owned by Salem Manor Society, which is a Baptist based group of Directors, Society members and Supporters.
The word Salem has Hebrew roots dating back to the pages of the Bible, meaning peace. The dictionary defines manor as a mansion. At Salem Manor our dedicated team of staff and volunteers work hard with the full commitment to provide a place of safety, peace and loving care.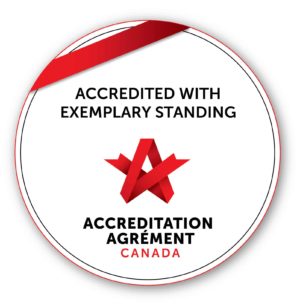 Continue our Christian heritage by meeting the physical, spiritual, emotional and social needs of those entrusted to us in a loving home environment.
Be a leader in resident focused care and services in our community.
Every person has been created equal by GOD, has worth and value, and should be treated with dignity and respect.
Compassionate holistic care through effective stewardship of available resources.
Best possible care through collaboration with staff, family, volunteers, partners and community.
The Salem Manor Society, organized in 1971, is a voluntary religious Society incorporated under the Societies Act of Alberta and is governed by a Board of Directors. The Society owns and operates Salem Manor Nursing Home, established in 1980 (and a Life Lease housing complex, Salem Village Mews, completed in 2006).
Salem Manor Society is an accredited facility and has over 100 employees committed to the quality of care of the residents. At present a vast variety of improvement projects are underway, technology, interior design, equipment and many more. All these upgrades are aimed to further improve the efficiency and effectiveness of care and ensure our residents have access to the best products, equipment and people.
New Updates & Events Coming Soon!
Stay tuned for new updates!
Book a Virtual Visit!
Salem Manor is open to in person visitors.
If you would like to book a virtual visit (Teams or Facetime) with your family member please call 780-986-8654 Ext 237
Butterfly Program
Bringing our Butterfly Program into Salem Manor Nursing Home
We recognize the need for letting residents and families know about the passing of their family and friends in our Home. We are launching the Butterfly program to recognize residents passing and let resident's friends and loved ones know about it.
What will happen:
Butterfly Lamp will stay lit for 24 hours from the time of the resident passing
A card with their name and day of passing will be placed in front of the butterfly
Butterfly will be placed on the resident's card in the dining room and their room door
There will be other things happening at this time. Currently, we are working on the booklet describing the Butterfly program, so keep an eye out!
Have questions? Feel free to contact Deb Grovet, the Director of Care.
Family Council
Participation in Family Council is a wonderful opportunity for families to meet and discuss issues related to having a loved one in the Home. The Family Council is a self-directed group with the Social Worker providing support and guidance. The Family Council offers an opportunity to give feedback to the home, participate in the Home improvements and decision making processes. It also offers mutual support, advocacy and educational programs.
Family Council has resumed, and is in person on the last Wednesday of every month, in the Chapel.
We invite and encourage all family members to participate in our Family Council Meetings!
Like what you see so far?
Book a tour with us!
Your support means a lot!
With the dedicated support of individuals like you, Salem Manor is able to enrich residents' lives even further! 100% of proceeds go towards projects and items that help to enhance residents' quality of life.